Immerse yourself in a winter wonderland by visiting the Christmas markets in the Nordic capitals of Copenhagen, Helsinki, Stockholm, and Oslo. There is a good chance that you can expect snowfall to enhance the experience! Hygge, the art of embracing winter, is a beloved tradition in this region. Lose yourself in the mesmerizing glow of twinkling lights, fragrant fir trees, and delectable culinary delights. The perfect destination for a magical European Christmas market trip, Scandinavia is also renowned for its chic design so you can shop for the perfect gifts!
Copenhagen Christmas Markets
Tivoli Christmas Market
From November 17 to December 31 (closed on December 24th)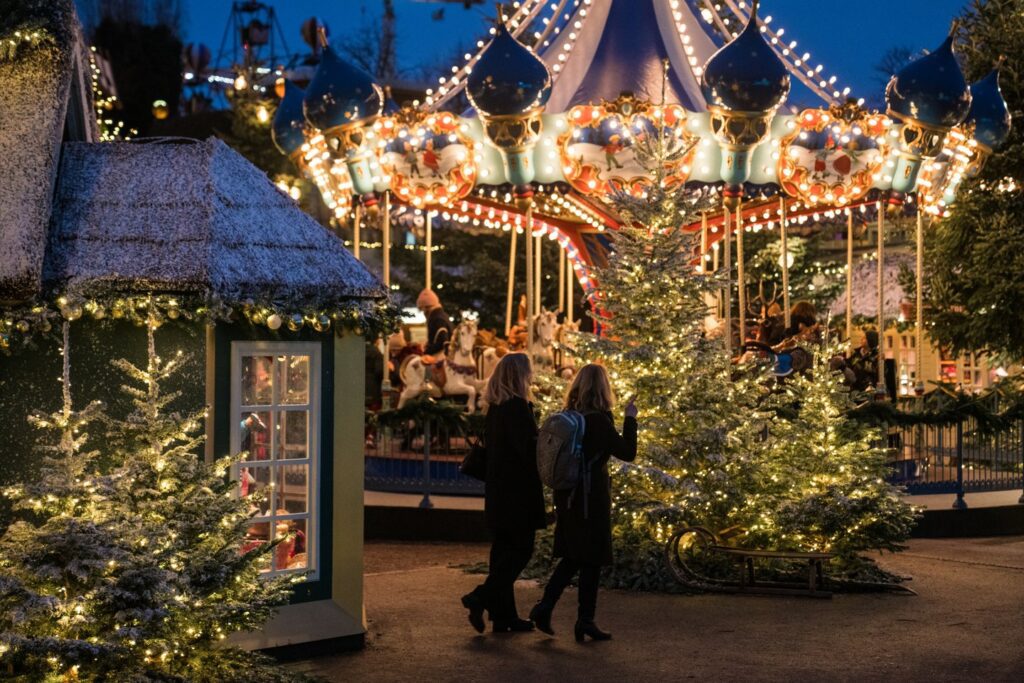 The Christmas Market in Tivoli is a major highlight. This charming Christmas market features over 50 stalls scattered throughout the Tivoli pathways, selling everything from festive gifts and decorations to delicious hot drinks, sweets, and food to keep you warm. Please note that an entrance ticket is required to enter the market. Open until Midnight at the weekends!
Nyhavn Christmas Market
From November 17 to December 21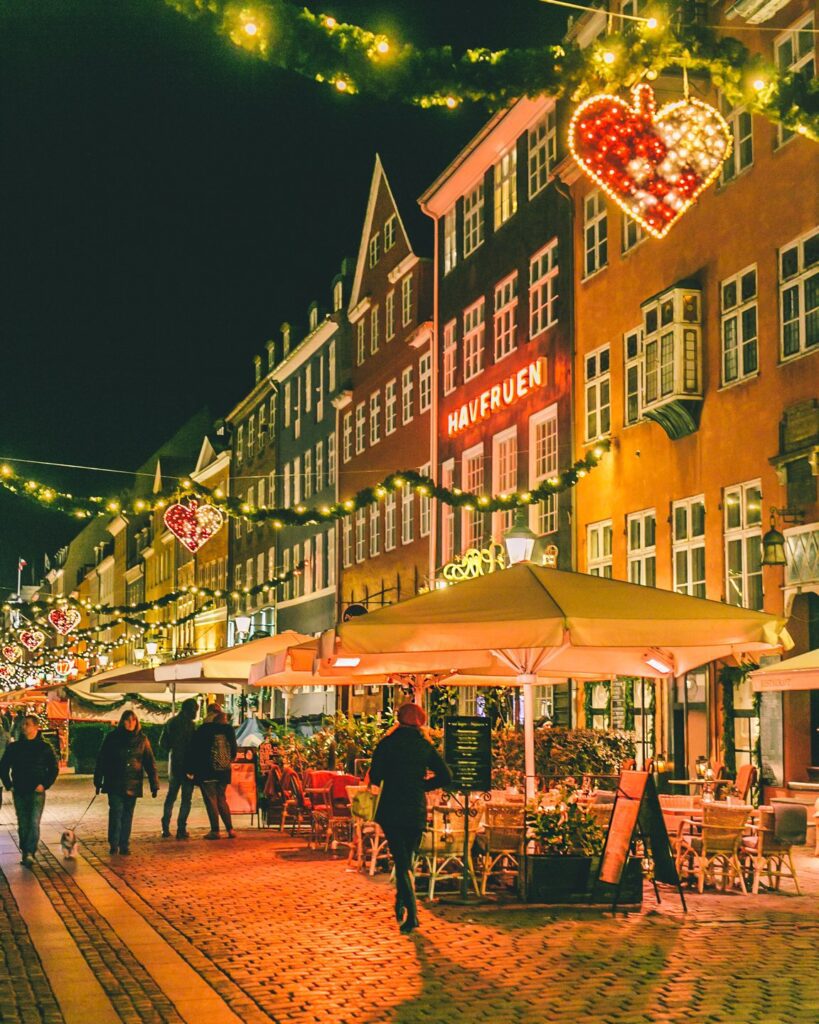 Experience the holiday season at the charming Nyhavn Christmas Market! Right on the waterfront in Copenhagen, enjoy the festive sounds of jazz and indulge in traditional Christmas delicacies while browsing a beautiful selection of Danish designer crafts. From approximately November 15th to December 23rd. Visit the Nyhavn Facebook page for more information.
Hans Christian Andersen Christmas Market
Step into a magical world of stalls named after the celebrated Danish author's fairytales on Nytorv Square. Children will delight in meeting Santa Claus, creating their own festive decorations, and taking a spin on a classic carousel.
Design Led Market – FLID
From December 9-12
Discover the ultimate hub for Scandinavian and Danish art and design this holiday season! With the latest in Danish design and amazing local exhibitions by talented artists, Flid's sustainable market transforms into a magical Christmas wonderland for two days only.
Kongens Nytorv
From November 3 to December 21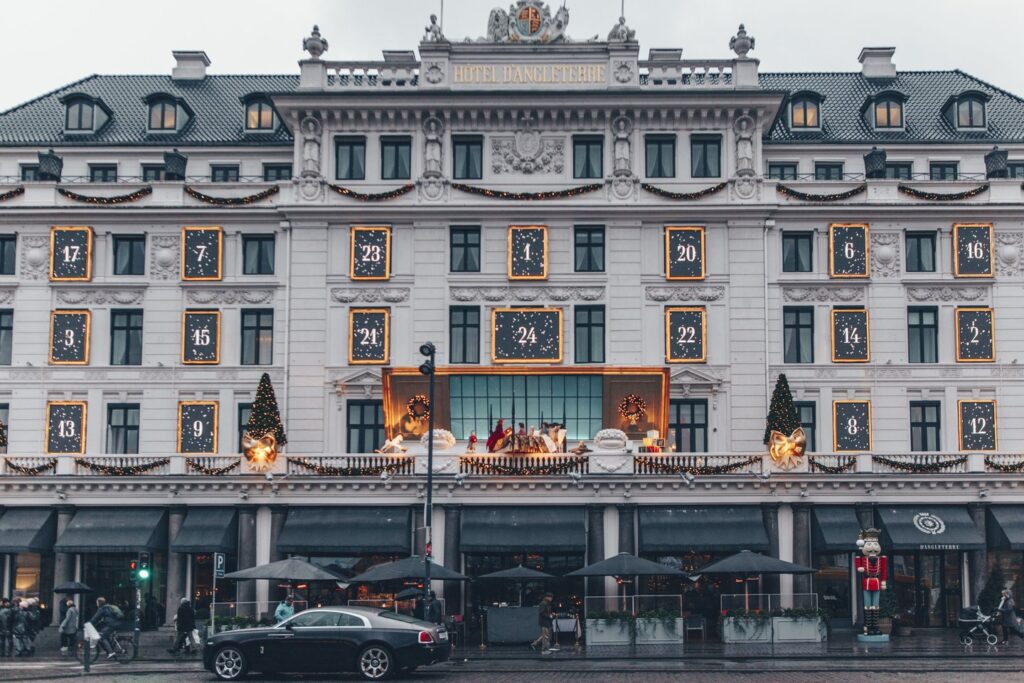 Classic Christmas Market right in the heart of the city. Check out the stunning Christmas lights and decorations adorning the iconic Hotel d'Angleterre and Magasin department store in the heart of Copenhagen.
Helsinki Christmas Markets
Senate Square
From December 1 to December 22
This is the oldest outdoor Christmas Market in Helsinki. Enjoy crafts, baked goods, and other holiday specialties. Wander through the festive atmosphere enjoying a warm cup of cocoa, and let the savory scents guide you to the fully licensed food court. With a magnificent old-time carousel and weekend visits from Santa Claus, this is the biggest and most memorable Christmas Market in all of Finland.
Medieval Charm in Porvoo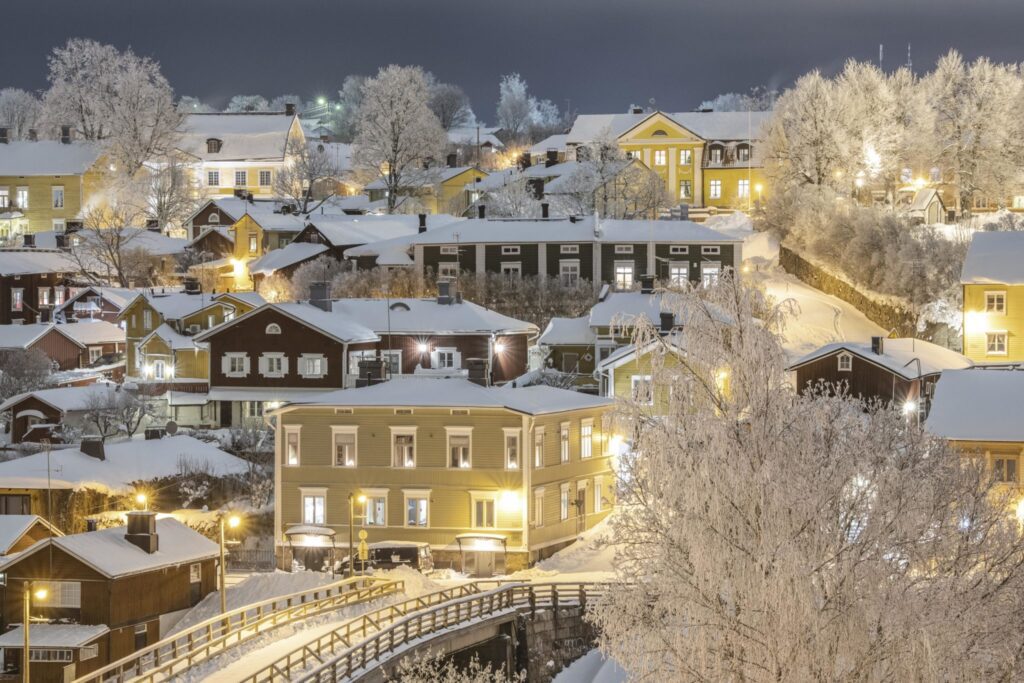 Experience old-world charm at the Christmas Market held in the medieval city of Porvoo, just 30 minutes outside Helsinki. Adorned with preserved wooden houses, riverside huts, and cobblestone streets lit up by twinkling lights, Porvoo transforms into a magical winter wonderland when the snow falls. Encounter the old-fashioned kick sleds, also known as potkukelkka, still in use as a mode of transportation in many smaller towns across the country. Visit quaint cafes, shop for unique gifts, and take in this gorgeous medieval town.
Why not combine a Christmas vacation to Finnish Lapland at the fabulous Kakslauttanen Artic resort?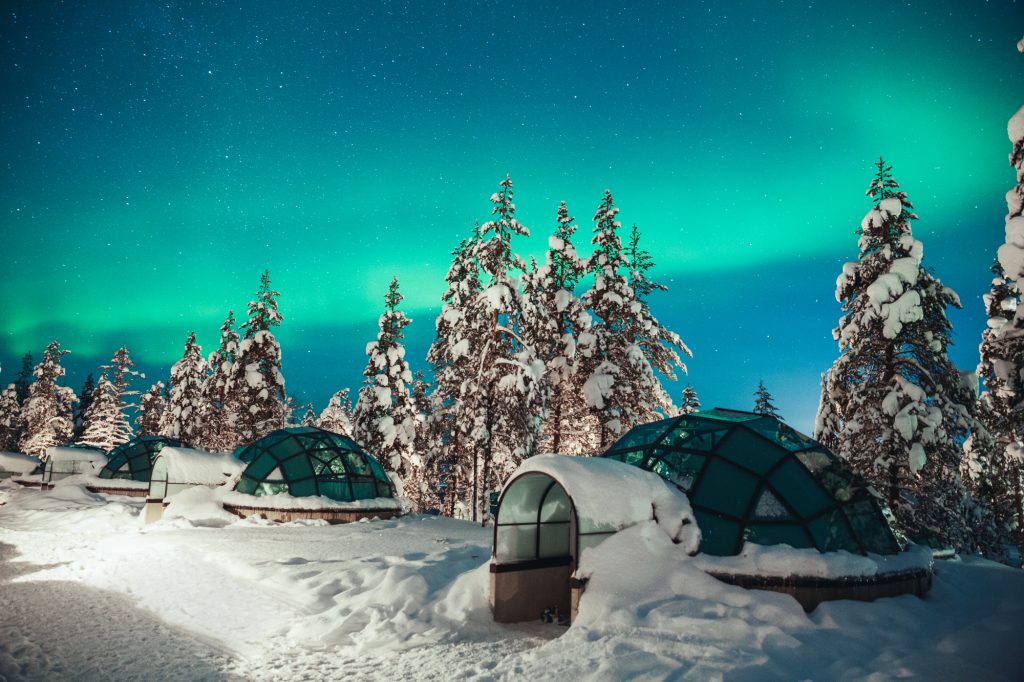 Stockholm Christmas Markets
Skansen
November 25 to December 18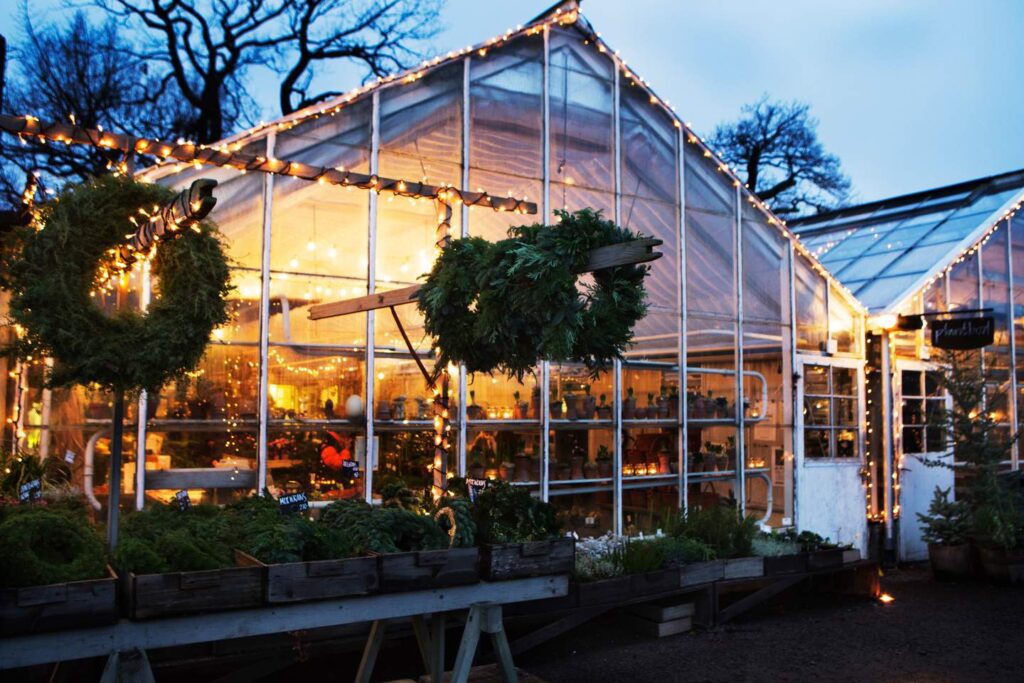 Step back in time and experience the magic of a historic Christmas market dating back to 1903 at Skansen. Shop for everything from homemade candles and sweet treats to unique handicrafts and secret presents. Every Friday, Saturday, and Sunday from November 25th to December 18th, the market is open from 10:00 am to 4:00 pm. Don't miss out on the festive atmosphere complete with bonfires, locally produced crafts, and tasty delights like mulled wine and roasted almonds.
Stortorgets Christmas Market in Old Town (Gamla Stan)
November 18 until December 23
Experience the oldest Christmas market in Stockholm and Sweden, starting from Saturday November 18th and running every day until December 23rd.  Explore 41 stalls filled with an array of delights such as candies, art forging, sausages & venison, handicrafts, mulled wine, cotton candy, and ceramics. The market operates from 11 am to 6 pm every day, just as it has been doing since its establishment in 1837, an age-old tradition rooted in medieval Stockholm's markets.
Oslo Christmas Markets
Norsk Folke Museum Christmas Fair
December 2-3 and 9-10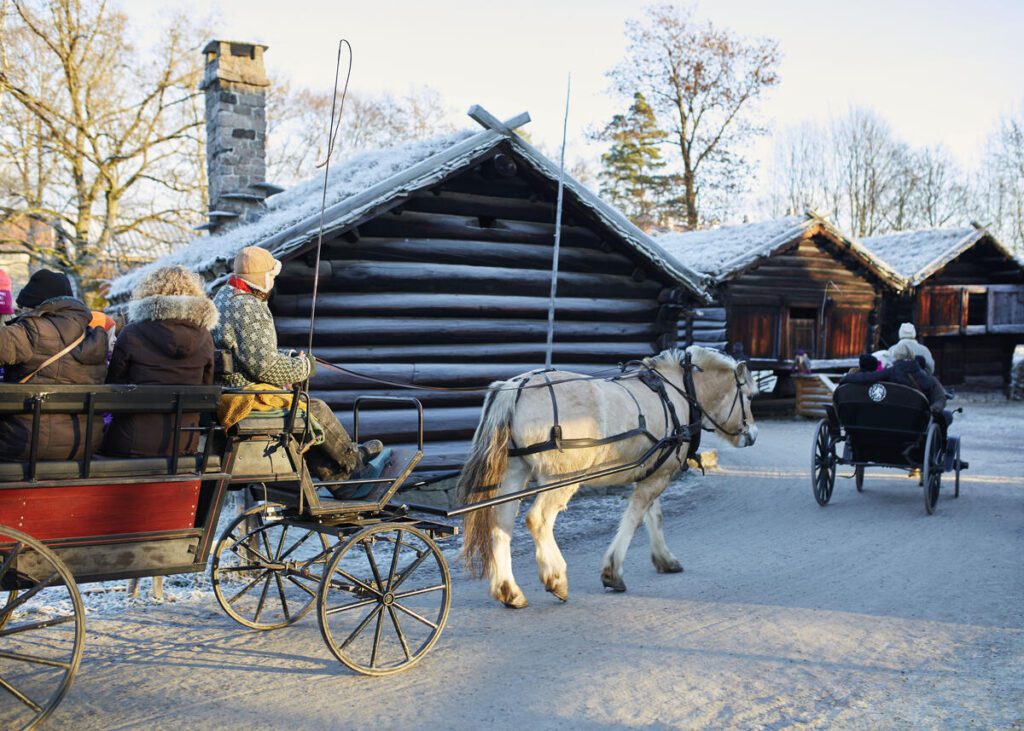 For the first two weekends of December, the Norske Folk Museum hosts a Christmas market around their beautiful open-air museum. One of the loveliest settings we can imagine!
Winter Wonderland in Spikersuppa
From November 11 to January 1, 2024
Experience a magical Christmas in Oslo at Spikersuppa, one of the capital's top Christmas fairs that runs for over a month. Taking place by the Spikersuppa skating rink just a stone's throw away from the Royal Palace on Karl Johans gate.
Bergen Christmas Market
November 25 to December 23
Head to the gateway of the Fjords and Bergen. In the heart of the city at Festplassen, you'll find the bustling Christmas market. Enjoy the classic Ferris wheel and horse carousel, a magnificent Christmas tree, and festive stalls.
Gingerbread Town (Bergen)
November 18 to December 31
In Norway, gingerbread cookies are a beloved holiday tradition. Locally known as "pepperkaker," they come in various shapes and sizes, from hearts and bells to angels and reindeer. They even form intricate gingerbread houses and castles in Pepperkakebyen – the world's largest gingerbread city.
Since 1991, thousands of volunteers – including kindergarteners, schoolchildren, and local businesses – have come together to create this enchanting city in Bergen. Marvel at the miniature homes, local landmarks, and international signature buildings, as well as trains, boats, and cars – all crafted from delicious gingerbread. Americans with Norwegian roots in Duluth, Minnesota have started their own gingerbread city tradition, inspired by Bergen. Join in the festivities and make your Christmas unforgettable with this magical Norwegian tradition.
For more details about any of our destinations, contact us: 800.633.1008 or 813.251.5355 or email.